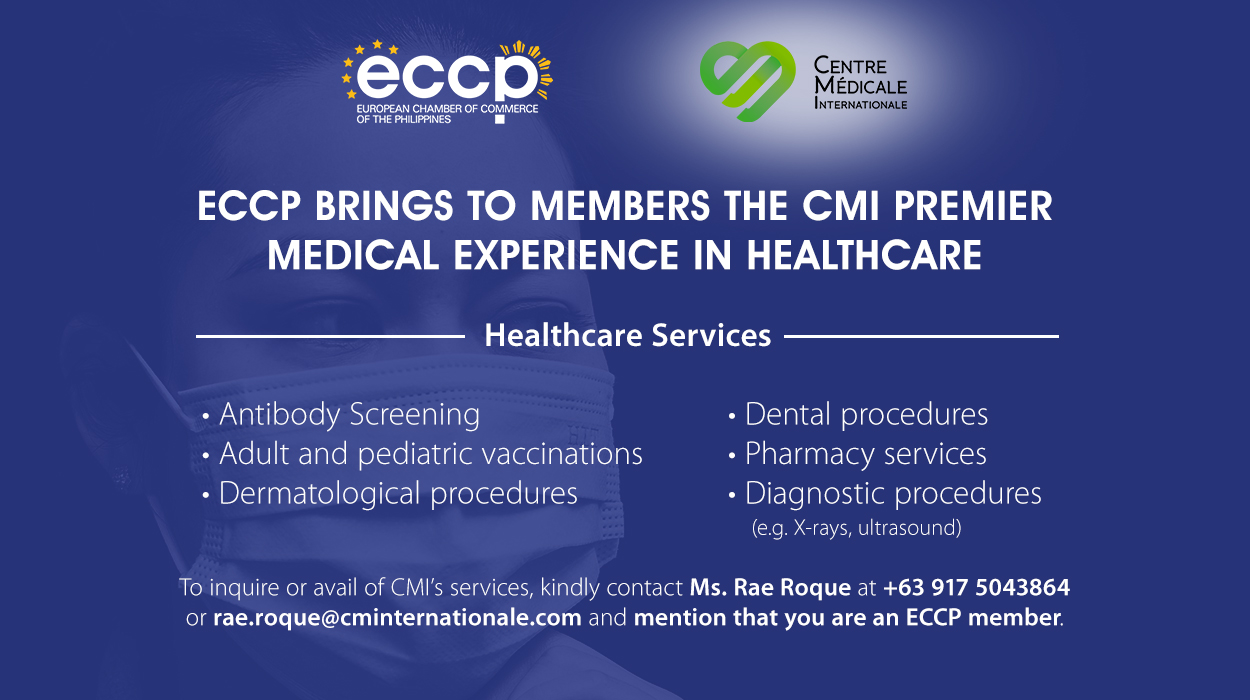 We are pleased to inform our members that the European Chamber of Commerce of the Philippines (ECCP) recently partnered with premier medical outpatient clinic, Centre Medicale Internationale (CMI) to provide our members with premier and safe patient experiences, especially during this time.
The ECCP-CMI partnership covers the following healthcare services:
Antibody Screening
Adult and pediatric vaccinations
Dermatological procedures
Dental procedures
Pharmacy services
Diagnostic procedures (e.g. X-rays, ultrasound)
Given the current Covid-19 situation, we wish to highlight that for antibody screening, CMI offers Roche Elecsys which tests for high affinity antibodies against the SARS-CoV2 virus. It is a chemiluminescence immunoassay (CLIA) laboratory-based test with a reported sensitivity of 100% and a specificity of 99.8%. Offering Roche Elecsys complies with the recommendation of the Philippine Society of Pathologists (PSP) to use instrumented laboratory-based methods for initial antibody testing. CMI conducts the tests on a by-appointment basis at their facility in BGC. Apart from this service, other outpatient services are available through the ECCP-CMI Partnership as outlined above.
To inquire or avail of CMI's services, kindly contact Ms. Rae Roque at +63 917 5043864 or rae.roque@cminternationale.com and mention that you are a member of ECCP. You will get the CMI brand of premier patient care, along with seasonal exclusive gifts. For starters, ECCP members who avail of vaccinations, laboratory tests or diagnostic procedures will get a packet of multivitamins from now until the end of August 2020.
CMI is committed to providing you the premier patient care you require, and the safety that you expect. ECCP looks forward to a fruitful partnership with them.
IN PARTNERSHIP WITH